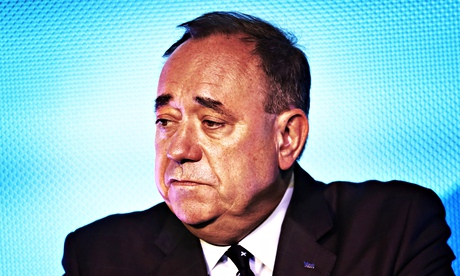 Alex Salmond has said he will stand down as Scotland's first minister and Scottish National party leader after failing to secure a majority for independence in Thursday's referendum.
He told a press conference in his official residence of Bute House that he would stand down as first minister in November when a new SNP leader will be chosen.
Salmond said he had made the decision in the morning after the referendum result emerged: "For me right now there is a decision as to who is best placed to lead this process forward politically.
"I believe that in this new exciting situation, redolent with possibility, party, parliament and country would benefit from new leadership."
He said he would not accept the SNP's nomination to be a candidate for leader at the party's annual conference in Perth in November, allowing a new party leader to be elected.
Given the SNP's majority in the Scottish parliament, the new leader will also become first minister.
Despite defeat in the referendum, his decision is a surprise: Salmond had repeatedly stated before the vote that he planned to stay on until after the 2016 Scottish election.
Salmond is likely to be succeeded by his deputy Nicola Sturgeon, who has become a commanding figure in the independence campaign after being appointed by Salmond to lead the referendum process.
Speaking minutes after Salmond's announcement, Sturgeon said that she could think of "no greater privilege" than to succeed Salmond as SNP leader and first minister, but that the decision "is not for today".
She added: "My priority this weekend, after a long and hard campaign, is to get some rest and spend time with my family. I also want the focus over the next few days to be on the outstanding record and achievements of the finest first minister Scotland has had."
Salmond said the most important thing to the independence cause was not about who is first minister of Scotland.
Read more from source